Joined

Mar 27, 2017
Messages

226
Hey guys.
Plan is as follows -
Week 1-4
test cyp 500mg (split into 2 250 mg injections weekly)
mk 677 12.5 mg daily
Weeks 5-12 test cyp
500mg (2 250 mg injections weekly)
equipoise 300mg (2 150mg injections weekly)
Mk 677 12.5 mg daily
* gear is from oxford some of the test cyp is from geno. Mk is from a rep supplier.
I am on 200mg test cyp for trt. So i plan on titrating back to that.
When i began My body fat was pretty high (19%) which is something i have an issue with due to certain medications i take. Additionally i was weighing 195...
Measurements (first day) -
Hips 42 1/4
Waist 37
Chest 44 1/4
Shoulders 53 1/2
Neck 17 1/4
R bicep (flexed) 16 1/4
L bicep (flexed) 16 1/4
L forearm 13 3/4
L wrist 7
R forearm 13
R wrist 7 1/4
R thigh 24 1/2
R calf 15 1/2
L thigh 24
L calf 14 1/2
Goals are to increase LEAN body mass, increase strength, and focus on growth in lagging body parts (arms and legs).
Now, in week 5 (just added eq) I'm weighing around 209 (so I've put on around 12-15 pounds) measurements were taken again -
Waist - 38 1/2
I've added an inch and a half on my waist! Perhaps bloat from the mk?
Chest - 47
Added 2 3/4 inch to my chest
Shoulders - 54
Added a half inch
Wrist, Neck, and forearms got smaller ? (Slightly)
No change in biceps or legs.
My diet is pretty good.
I haven't been tracking my macros like i should because my wife cooks and packs my meals.
I'm eating 3 meals a day. Having 4 shakes a day on workout days. Good isolate protein and a protein blend.
All up I'm probably around 2-3000 calories (on the higher end on workout days) with my protein in the high 200s those days.
Low carbs low fat.
Again, not tracking it but I'm pretty conscious on what i eat.
I'm not happy about the lack of growth in my arms and legs. My strength gains have been great overall. But no growth???
That's why I'm so obsessed with hyperplasia and adding gh....lol
My routine is pretty sporadic chest, shoulders, back, biceps, legs, triceps, two workouts a week i add ten minutes of HIIT cardio after. Working out an average of 5x weekly.
What am i doing wrong?
I'll cut afterwards and lose a lot of the bloat so not worried about that. But should i add something to my arms for site growth?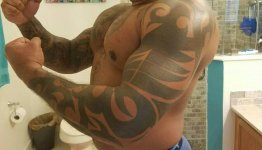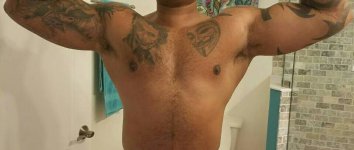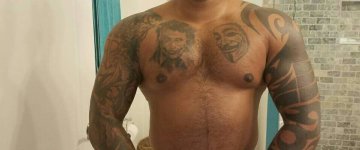 Cheers guys....
Sent from my SM-J700T1 using
Professional Muscle mobile app