In Todays installment of Cooking with Chef Boy-R-Dizzy we are making a Thai Beef Noodle Bowl.
This might be a new favorite of mine. I went heavy on the lime juice and chili sauce for a kick. Fan-friggin-tastic!
Ingredients
• 2 oz. uncooked soba or ramen noodles
• ¼ cup creamy peanut butter
• ¼ cup water
• 2 Tbsp. lime juice (1 lime)
• 2 Tbsp. low-sodium soy sauce
• Few drops hot / chili sauce
• 1 Tbsp. extra virgin olive oil
• 1 cup snow peas
• 1 cup carrot strips (use a peeler)
• 6 oz. beef round sirloin tip or other lean beef cut into thin strips
• ¼ tsp. black pepper
• 2 green onions chopped
Place noodles in a small sauce pan; add enough water to cover. Heat noodles and water over medium high heat until water simmers and noodles break apart, about 3 minutes. Drain noodles and place in a medium bowl
Return empty saucepan to stovetop over low heat. Add peanut butter, water, lime juice, and soy sauce, stirring occasionally, until mixture is blended and thickens slightly, about 5 minutes. Season with hot sauce to taste.
Meanwhile, heat oil in a skillet over medium heat. When oil is hot, sauté snow peas and carrot strips until tender but still crisp, about 1 minute. Add peas and carrots to bowl with noodles, set aside.
Season beff strips with black pepper. Cook beef strips in same skillet until desired doneness. Add beef strips to bowl with noodles and vegetables. Pour peanut sauce over top; toss to coat. If sauce is too thick add 1-2 Tbsp water. Top with green onions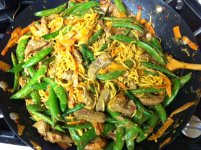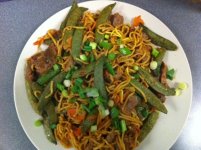 Nutriitional Facts (above recipe is 1 serving!)
753 calories
55g Protein
67g Carbs
39g Fat