Active member
Kilo Klub Member
Registered
Joined

Apr 1, 2005
Messages

1,902
Well I am coming up on 1 month living here in Jacksonville, working on my new life and things have improved. I have met a lot of nice people and made some new friends. I have reconnected with some old ones as well including my former best friend that I was estranged from for years. I was estranged from most of my family as well and I have started to reconnect with some of them as well. I am still searching for my true happiness within myself and I am working very hard at finding the answers. I really look forward to that day when I find that total peace and I am excited because I know that is no longer a pipe dream but will be a reality.
In my spare time I have been training for the Dexter Jackson Classic. The show is a really big deal in the gym I work out at with many competing or working in the show. I have had the best time training for this show. The young guys and women training for this show have so much enthuisiam and kinship that it kind of rejuvenated me. They train, pose, and party together and really where I came from in Central Florida all the bodybuilders hated each other and just skowed. From day one everyone in the gym treated me with a lot of respect and really have helped me through some tough times. I hadn't planned on doing the show but I was in good enough shape when I got here that the prep wouldn't take away from the more important things I want to accomplish. Bodybuilding is no longer life or death for me and this show will be my last show because I couldn't think of a better way to go out then the good time I have had with this group here. Whatever happens at the contest is irrelevant, I am having fun getting ready, competing with this group will be a blast, and I have heard legendary stories of the after party. I couldn't think of a better way to call it quits then with this show. Then I look forward to riding off into the sunset with my health intact and just living healthy. There won't be any room for bodybuilding where I am headed as my focus will be on all things I neglected. I am looking forward to becoming a champion on the inside and I know deep down that it is still not to late for me to become a great father though I won't live with my children. Way down the road when I am a much improved product I look forward to maybe one day meeting that special person that all my experiences, mistakes, and mishaps will have me prepared to love and share a life with.
That being said I apoligize ahead of time for posting so many pictures but man I have posted nothing but doom and gloom and I really wanted to lighten things up for me by posting something that is becoming more and more insignificant to me.....my physique.
4 1/2 weeks out "The Relaxed Round"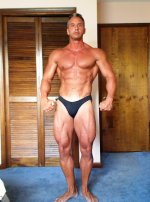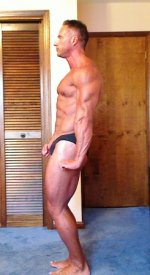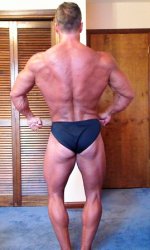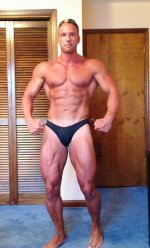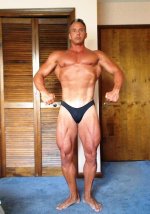 Last edited: