Active member
Kilo Klub Member
Registered
Joined

Apr 1, 2005
Messages

1,902
A few months ago if I would have looked into a crystal ball and see were my life would be today I would have thought there had been a definite mistake. Everything happened very fast from the end of my marriage to leaving my house in Winter Park, Fl and relocating 130 miles northeast to Jacksonville, Florida. When I first got here I didn't even have my automobile as it was in need of major repair. I literally stuffed as many things as I could into my motorcycle and moved into my mother's house. I won't lie it was very difficult for me at first and I really didn't handle things very well. Time, therapy, and some good friends helped me get through a lot. Soon I had vision of where I wanted to be and I knew that every minute I dwelled on my "Orlando issues" was time that would keep me from getting where I wanted to be. I started working out of a private upscale training studio. The more the doom and gloom fog lifted off of me the more different people became drawn to me. I started making a lot of friends and maybe business contacts and it was nice to reunite with a lot of long forgotten friends.
That brings me to where I am now. I have been living my new life in the intimate beach community of Jacksonville Beach, Florida. I recently leased a small duplex 2 blocks from the ocean. I have my vehicle, a lot of my stuff, and my dogs with me. I have never lived alone as I lived at home until I was married. I still really haven't as I spent 1 night alone the first night. The next day Marilyn came up with the kids, dogs, and some odds and ends things I needed. The boys decided to stay for awhile so they have been with me ever since.
It's funny how things work out. A few months ago I truly felt like I hit rock bottom and that the last 18 years of my life were not valid. Now I am happier then I can remember so much so I almost feel guilty how simple my life has become. First and foremost is the community, very hippie Venice Beach like. I absolutely love it, the atmosphere, the peace and love. Long gone are those awful HOA of my past and making sure my shrubs were neat and the yards were up to homeowner standards. I know many of you live for and appreciate this kind of stuff for home values and all that crap but man you all can have that crap. My place now is small, the people around me have no idea about any of that stuff they are just happy to have enough money to pay the rent and hang out. The first night that I moved in people came over, brought me stuff, and asked if I needed anything. I just love being amongst this community, a part of me thinks this is where I should have been all along.
I usually start every morning with a brisk walk on the beach with the dogs. Of course I am on the East coast so I usually witness sunrise over the ocean. I usually will then take an early morning swim. I like to close everyday with another walk on the ocean and I love to swim in the ocean at night especially under the light of a full moon. Everything that I need is within walking distance. My work is 14 blocks away, my bank is 9 blocks, grocery 7 blocks, and every restaurant, bar, and amphitheater is just a few blocks away. Most people here don't even have cars as the Beach Cruiser bicycle is the transportation of choice. My Jeep with the top off works pretty well though.
So what is the motivation of my thread? First and foremost it is to tell all of my good friends on PM that I am not only alive and well but I am maybe doing better and happier then ever. I also have compiled a lot of photos of the lifestyle around here and I want to post them to give some insight of how I am living and what it is like to live here.
Funny note as I was writing this thread up early in the evening 2 hippie girls that live around the corner and I have befriended knocked on my door and asked if I wanted to walk down with them to one of the local bars and hear a band that they like. I was in my bathing suit with sand and salt still on me. I told them "sure I would love to go but let me hop in the shower" they said "you don't need a shower man just go like that" It is just way too cool living here. So I did take a shower and go off with them to a couple of bars and listen to music. I am just getting back now and finishing the thread.
It was a little foggy on this paticular morning but I love to wake up and take this morning walk. Deep breaths, relaxing, and thinking about my day. This is peace and tranquility that I had longed for.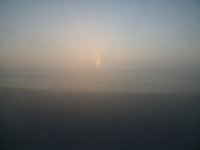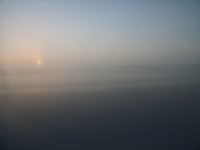 Here it is, it is not much but I love it. My 1 bedroom 1 bath duplex 2 blocks from the ocean. The Jeep looks right parked out there. I very rarely ever have the top on the Jeep it just so happened I did when these pics were taken.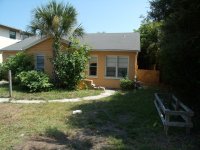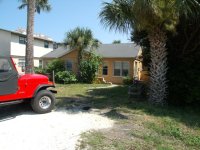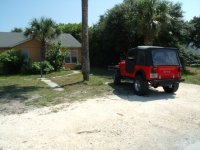 ​