Well-known member
Registered
Newbies
Joined

Apr 9, 2021
Messages

369
@OuchThatHurts
this is for you.
When it was confidently asserted that Tren clearly causes BPH and prostate problems, I should have simply asked for a citation rather than accepting this as fact. However, after reading Peter Bond's latest Meso article and thinking back to some recent Tren research, I have some thoughts on the topic that should act as an effective correction/update to my prior comments on Tren and the prostate.
Hershberger Assay Results (TP "testosterone prop"; TB "trenbolone ace", sc "subcutaneous")
"In DHT-forming tissues, with 5α-reductase, such as seminal vesicle and VP [prostate] were much less affected compared to the effects of a similar dose of TP (only showing statistically significant increases at 200μg TB/day) while the levator ani, which exhibits a testosterone (T)-dependent response lacking this enzyme, is significantly increased in size at 50μg TB/day with a dose-response curve nearly identical to sc TP (Fig. 4). Hence TB, as compared to TP, differentially induced "anabolic" effects on androgen-dependent muscles, with lower "androgenic" potency on the sex accessory glands. This tissues elective response is likely based upon the ability of 5α-reductase to inactivate TB, while in contrast, testosterone is converted by the same enzyme to DHT, a more potent androgen. In the LABC, sc TB was equipotent with TP, while in the VP, SV, and GP, even 200μg/day fails to stimulate tissue growth to the same degree as 25μg TP/day."
[1]
So
in rats
using the HA
, tren has approx. 1/10 - 1/4 the potential to cause BPH as testosterone on a per-dose basis: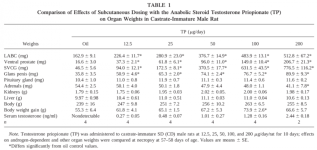 [1]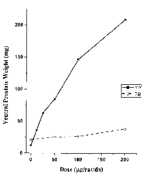 Dotted lines: Tren Ace
Solid line: Test Prop
[1]
Looking at humans rather than rats (again considering the weaknesses of the HA), the assumption that tren (or AAS generally) causes BPH is far more equivocal, and there is evidence for the opposite (that tren may attenuate prostate growth [2]; that its metabolite 17α-TBOH may shrink the prostate [1 citing WHO]). Consider that in practice the dosage of tren used is far less than test typically. Given what we know about test's 5α-reduction and ubiquitious presence in AAS polypharmacy, it is probably safe to say that tren is not responsible for any significant occurrence of BPH versus high dose test.
The association between testosterone and prostate cancer is related to low (low hypogonadal!) T ranges versus zero T (castrate level), and an effective ceiling is reached in this risk in that hypogonadal range [3]. This squares with Bhasin et al. [4]'s 5α-reductase inhibitor (Dutasteride) + Test study where T supplanted the role of DHT in prostate function. Rather than demonstrating that testosterone (and AAS generally) can both exert androgenic effects in all androgen-sensitive tissues, and that their relative effects in any tissue depend upon their relative concentrations and potency, this data rather supports a model wherein testosterone's conversion to DHT is not obligatory, but amplifies the effects of testosterone in tissues with high 5α-reductase activity such as the prostate and skin, but not in tissues with low 5α-reductase activity such as skeletal muscle and bone [4]. The pertinent findings from Bhasin et al. were:
Prostate Volumes and PSA level

"Change in prostate volume and PSA level were not significantly related to either testosterone dose or concentration, and did not differ significantly between the placebo and dutasteride groups."

See Figure: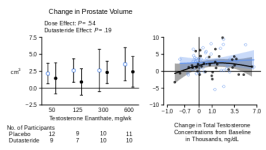 [4]
Conclusion
: There is no evidence to suggest that long-term, supraphysiological dosages of AAS even cause BPH in humans!
[T]here are no clear indications, case reports, or systematic investigations demonstrating that AAS abuse causes benign prostatic hypertrophy (BPH)... As several AAS also have gestagenic activity in addition to androgenic effects, some AAS may prevent testosterone-dependent prostate growth when given in combination and this may explain the low incidence of BPH in AAS abusers.
[2]
Tren with its affinity for the PR, acting as a progestin, sure seems a good candidate.
_______________________________________
References:
[1] Vickie S. Wilson, Christy Lambright, Joe Ostby, L. E. Gray, Jr., In Vitro and in Vivo Effects of 17β-Trenbolone: A Feedlot Effluent Contaminant, Toxicological Sciences, Volume 70, Issue 2, December 2002, Pages 202–211,
https://doi.org/~/70.2.202
[2] Nieschlag, E., & Vorona, E. (2015). MECHANISMS IN ENDOCRINOLOGY: Medical consequences of doping with anabolic androgenic steroids: effects on reproductive functions. European Journal of Endocrinology, 173(2), R47–R58. doi:10.1530/eje-15-0080
[3] Morgentaler, A., & Traish, A. M. (2009). Shifting the Paradigm of Testosterone and Prostate Cancer: The Saturation Model and the Limits of Androgen-Dependent Growth. European Urology, 55(2), 310–321. doi:10.1016/j.eururo.2008.09.024
[4] Bhasin S, Travison TG, Storer TW, Lakshman K, Kaushik M, Mazer NA, Ngyuen AH, Davda MN, Jara H, Aakil A, Anderson S, Knapp PE, Hanka S, Mohammed N, Daou P, Miciek R, Ulloor J, Zhang A, Brooks B, Orwoll K, Hede-Brierley L, Eder R, Elmi A, Bhasin G, Collins L, Singh R, Basaria S. Effect of testosterone supplementation with and without a dual 5α-reductase inhibitor on fat-free mass in men with suppressed testosterone production: a randomized controlled trial. JAMA. 2012 Mar 7;307(9):931-9. doi: 10.1001/jama.2012.227. PMID: 22396515; PMCID: PMC6035750.