Joined

Nov 20, 2016
Messages

34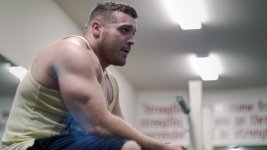 After taking a good deal of time off for some health issues I'm back. Going to try and do a few shows this year while trying to balance health with competition. First show will be an NPC show for classic physique and after that I'll most likely be switching over to a different federation. Don't want the huge BBer look anymore but I'll also be too big for classic physique after to long. Already have to lose some muscle to make the 192 weight limit for my height.
I've been pretty lucky and will be having a film crew doing a documentary on me for the competition season. They will also be filming some YouTube videos for me and I will be putting out a daily vlog once my dumb ass gets better at editing.
Most of my gear will be coming from Docs and an anti aging clinic but obviously some things can't get prescribed. I'm a ten lover so will have that in for near the whole season. Would love primo in the whole time but will be starting out with EQ for the first 10-12 weeks or so.
Waiting on all my paperwork so I can get my HGH prescriptions and really start rolling. Since I took a while off I got a bit chunky but am down 12 pounds in the past week and a half so it's not looking too bad. Currently weighing in at 225.2 as of this morning.
Did a bit of filming earlier but today is an off day so I'll just be getting ready for the work week. I have 50+ hour a week office job so I usually have get up early and stay up super late to get training in. Luckily being able to keep as many meals as I need in the fridge and my HGH and peptides in my cool bag will help out a lot. Also having a desk fan and AC helps when the DNP sweats kick in. Was 113f last week here too.
As of today I am 90 days out and still pretty fat. Tomorrow is a leg day and I'll keep you updated!
Sent from my iPhone using Tapatalk