Member
Registered
Newbies
Joined

Sep 12, 2020
Messages

56
Hi Guys
Was hoping I could get your input on my recent bloodwork. A few things which pop out to me as a potential red flag which is why I am posting and asking for your thoughts on this. FYI I'm 38 Male. I'm currently only on 240mg of Test E a week, and have actually just gotten a new source in country and they provide me with Pharma grade Test. The UG lab I was ordering online from seems to have done something with their carrier oil and it is not agreeing with my body, making it swell and go red at times. This caused me to have some infrequent injections cos of swelling (I rotate glutes only).
I took this bloodwork in Greece on my rotational leave from work because here in Saudi Arabia where I am working the medical clinic doesn't do testosterone and some other hormones so had to redo it when I went home to Greece. Hence why there are two seperate test results over the course of 6ish weeks. Beyond this some points below I want to make for all:
I was on holiday with my wife so took the break from training
Didn't jab for 11 days as I didn't carry my gear with me.
I was in Amsterdam the weekend before getting some more ink, but also partied a bit hard with the wife.
Been on Keto diet last 3 months until I got to Europe I was eating Carbs again
Greek relatives don't take know for an answer and overfeed you lol.
What I found interesting is the following:
After only 11 days my test levels are down to 185ng/dL
DHT is on the low end but I attribute that to the Fin I take (again didn't take while on holiday)
HGH is 0.3, it's within reference range and from what I have read this is actually a good level, however I wonder if it is actually low
Insulin is high which is alarming but I'm wondering if it's all the carbs and sugar consumed over that holiday break? My fasting blood glucose levels on the previous test came back good.
I'm surprised how my LS & FSH went up between the blood tests. I am assuming it has to do with my test levels being 185mg/dL and that I didn't jab for 11 days, but still found it to be strange it went up so quick.
Hematocrit seems to be high in these tests but my understanding is it's within the reference range (45-52% ref range).
I am considering HGH after the festive season and have a box here waiting for me to pull the trigger. 1.5 IU per day I would start with (omnitrope Pharma I have) and go up to 3 IU max over time.
Appreciate your assistance on the matter.
Below is test in Greece.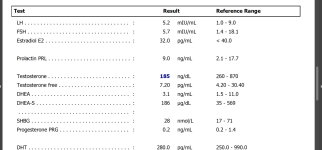 Below is other blood test in KSA