Joined

Jun 25, 2017
Messages

13
Hey everyone, I'm new on this forum, but not new to lifting. Little background, I am 36, 5'9", and currently 173 lbs and 16.2% bf. I spent 10 years in the US Army Infantry and was medically retired in 2011 after a I.E.D. in Afghanistan.
In 2007, I was injured in Iraq, but they never really looked into the injuries, in 2009 I was injured again in Afghanistan, and they found out that my C2-C3 had been fused from the blast in '07 and my L3-5 where buldging against my spine, then I had a maxofacial reconstruction from my injury in '09. From '11-'15, I listened to doctors and didn't do any lifting. This caused me to blow up to 212 lbs and well over 20% bf, and I just wasnt happy so I have spent the last 2 years rebuilding myself.
Here is the last 2 years: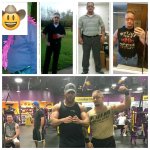 I have ran test-e at 600 p/week for 16 weeks. I have run a Ostra, S4, and GW run. Now, I'm planning my next run and would love your input on it.
This is my next planned run:
Week 1-16 Test e 500 (split 250 Monday & Thursday)
Week 1-4 ABomb 50mg ED
Week 11-16 Var 50mg ED
Week 1-16 Armidex .5mg EOD
Week 18-21 PCT Nolva 40/40/20/20
Sent from my SM-G935V using
Professional Muscle mobile app
Last edited: