Active member
Kilo Klub Member
Registered
Joined

Apr 1, 2005
Messages

1,903
With all of my babbling in a few other threads of my new "hippie beach life" and all the updates of my life, I forgot to mention that I have been training to compete in The 2010 Dexter Jackson Classic. So once again I will be dawning the posing trunks and doing battle. I have entered both the open light heavy class and the Masters over 40. As always I hope to meet other ProMuscle members in person at the show. Off course it goes without saying that all of your support through my bad times and now the good is very much appreciated. It was a tough prep with all that was going on in my personal life but a lot of the ground work was layed in Jan-May that made this prep possible. I will get into more of that later in the thread.
I know many of you will be rooting for me tommorow and I can tell you that in this caliber show the competition is stout but I feel like I am bringing my best package to date. I don't know when I will be able to update but you all will probably know the results the same time I do as it is being covered by RX Muscle. Bob Chicherillo will be the MC and he always does a great job.
As always much love and respect to my ProMuscle brother and sisterhood and I will do my best and be thinking of you while I am up there.
I weighed in tonight at 193 LBS. This is an all time best condition for me. Last year I competed in this show at 211 LBS. I then competed in the Florida State 3 weeks later at 208 LBS and then The Gainesville Championships at 203 LBS. I got spray tanned before weigh ins in the wonderful tanning guy Mathew was kind enough to snap a few shots to give you an idea of my condition.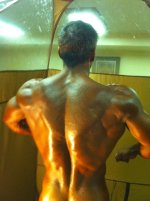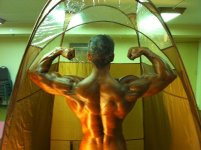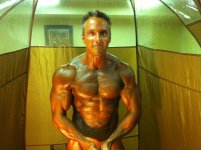 ​