Joined

May 1, 2017
Messages

342
Day 1 - 4/8/18
Planned on starting this log about a month ago but after catching that nasty flu that later turned into pneumonia n bronchitis...thought I was kicking the bucket.
Current planned cycle
Duration: 20 weeks
Test C (weeks 1-20) 750mg/wk
Bold 300 (weeks 1-20) 750mg/wk
Trenabol (weeks 8-20) 50mg ED
Aromasin (weeks 1-20) 10mg EOD - estimate
Anadrol (weeks 1-5) 50mg ED
Cialis (weeks 1-20) 20mg E4D
Have been running TRT level dose of my homebrew Test C the past few months n ready to kick this cycle off.
A few pics of the gear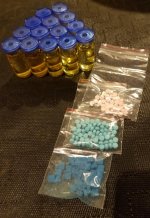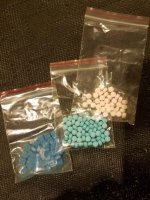 T/A was about 2 weeks n had no issues or complaints as far as shipping or communication.
My only real complaint is their choice of vial tops. It's the tear away kind so I have to try to cut it off or it'll almost rip the whole aluminum top off. See pic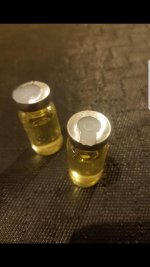 Pinned my 1st injection of the Test n EQ (.5mL of each). It's been a few hours now n don't have any signs of PIP. Will have a better idea in the morning. Also took 50mg of Anadrol.