Active member
Kilo Klub Member
Registered
Joined

Apr 1, 2005
Messages

1,902
I am going to try and do this thread Jethro Tull like but I don't have the widest array of pics but I am hoping others will jump in that were there with there pictures and stories.​
After I did the Florida State on Aug 21 I was pretty run down and beaten. It was my 3rd show in as many weeks and there was a little drama as my estranged/soon to be ex wife competed. When the show was over I was ready to get back to my beach man cave and recooperate for awhile. No sooner had I got back to the beach and just started to relax I got a call from friend Nancy Tremblay. She is a member of Team Blade (Dexter Jackson and Gale Elies figure team) and she was planning on competing in the North America. She said that Dexter was in California with Charles Glass preparing for the Olympia and Gale had another commitment. She would be alone and was there any way I could come out and help. So not wanting to turn my back on friend and also knowing that National level shows are always fun to attend I told her I would be there.
I got in late Thursday night, was pretty tired, so I went to bed. The next morning Nancy had a 7:00 am tanning appointment and she kind of went over a picture schedule. The idea was every few hours I would take her pictures, she would in turn email it to Dexter or Gale and that would determine what her next meals would be. I have to say the approach that Nancy took to all this was very professional. She might not be a Pro yet but other then the card she is a pro in every aspect. She had a huge cooler filled with an assortment of frozen chicken breast, Talipia, Oatmeal, Sweet Potato, Asparagus, Spinich. All of this was cooked a month in advance, vacuum sealed, and frozen. Once eat set of pictures were analyzed then she would be instructed on Chicken or Talapia, carbs or not. This was being worked in conjunction with the other water removal methods. So after Nancy got back from tanning pictures were taken. I then told Nancy if she needed anything call me I was going to take the day, eat and go to the Rock and Roll hall of fame.
Walking around the hotel and town a lot of people asked me if I was a competitor I thought that was kind of cool. One guy obviously a homosexual (that is okay no problem with that here) asked if I competed then several other questions. He then followed me into the bathroom and was talking to me while I was at the urinal. I don't want to say I had "stage fright" but after standing there for 10 minutes with nothing coming out I almost gave up. Off course the longer I stood there the question got a little more brazen, finally once the flow started he asked if I could give him a double bicep pose, I explained to him that both my hands were busy at the moment but maybe later. This was all happening to the amusement of the different people walking in and out of the bathroom.
With that done I set out on foot in downtown Cleveland. The weather was cloudy and looked like rain and I really wasn't sure where I was going. I knew what direction the Lake was so I walked towards that because I seemed to remember the Rock and Roll Hall of Fame being on Lake Erie. The closer I got to the lake the worse the weather got finally it started raining and I ducked into the train station down there. At that time I got a text from Nancy asking what I was doing when I told her I was caught in a storm she said try to make it back in 1 piece by 2:00PM for the next round of pics (oh those high level figure girls, so sensitive and caring..lol)
Anyway kind of by mistake I ended up at the Cleveland Browns stadium. I took a few pics and went over to see if I could get in. When I was leaving a car pulled up and asked if I just got cut by the Browns and what was my name.....I said "Yes, Phil Hernon, Fresno State"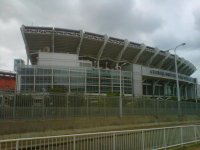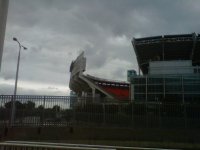 I have to admit someone who knew where they were going probably could of got to the HOF in maybe a mile and a half, when I finally saw this sign I probably had walked 5 or 6 miles.​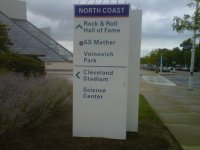 Finally there was the Rock and Roll hall of fame​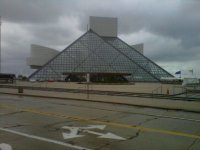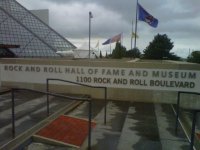 To be continued many more pictures and stories.