Active member
Kilo Klub Member
Registered
Joined

Apr 1, 2005
Messages

1,903
I am fortunate in the fact that I have access to 3 different places to train here in town. This gives me a bit of a variation and choice of how and where I train depending on what I feel like.
I train people out of a private upscale studio that is only 14 blocks away. I have the key, it's private, so if I feel like just training alone or some early or late cardio, it's perfect. Also if I am in a rush for time or works out pretty well as I train a client or 2, train myself, and then train someone else.
Most of the time since I moved back in town I have trained at The World Gym. Great atmosphere, a lot of high level male and female competitors, including Dexter Jackson and Lee Banks. This atmosphere helped me get ready for the shows I competed in this year. I was really hurting mentally when I arrived and all the competitors really took me in. The DJC is such a big deal in the gym, a lot of members attend, a lot compete in it, and a lot volunteer. When I won the Masters I quickly went to the top of the food chain in the gym. This was good and bad. While it was cool getting all the respect and love, including when ever I saw Dexter he would say "whats up champ" it also maybe started to get to my head a little. I found myself going in one to many times not so much to train as I was "taking a victory lap" I still do go to this gym and when Nancy comes in town she will go over to meet with "Team Blade" Leading up to North Americas she would come in every 2 weeks or so to meet with Dexter and Gale Ellie for posing and observation. For me though I decided to make a few changes.
Though I had scene the both of them for years I never had formally met Mike and Terri Vona. Mike has been a National Level competitor for years with many titles to his credit and his lovely wife Terri has been cleaning up around the state of Florida and has done well on the national level. They run a hardcore personal training business out of a gym that I refer to as "The Dungeon" (they now proudly call it that as well) and they have a team of competitive bodybuilders, figure, and bikini. They have a rep for taking really good care of their athletes on and off the stage.
So the timing seem to be right when I met them at The North Americas. Right off the bat I liked them both. They were putting the finishing touches on signing youtube and teen sensation Cody Lewis. So Mike basically says to me hey you did great at the Dexter but you have gone as far as you are going to go unless you join a real team. We all went to dinner after the show, he was trying to sign Lynx as well as Nancy. I told him as soon as I got back to Jax I would call him and we would work something out.
We came to an agreement and I started driving to the other side of town to train at his place. The atmosphere in the dungeon is about as hardcore as you can get, no ac, loud music, lots of steel, but high quality equipment chosen my Mike himself. So we started training and either Mike or Terri is killing me every session. We are working to bring up every week part and every workout we are taking to the limit. My leg training has been pure torture with a throw up bucket needed everytime. I think this is really going to help me improve and up my game a little.
Mike and Terri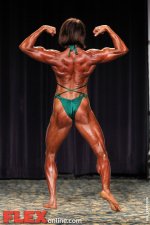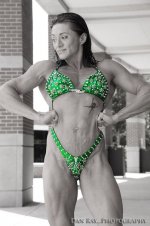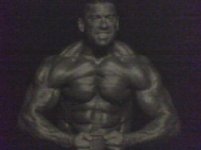 To be continued