Active member
Kilo Klub Member
Registered
Joined

Mar 3, 2012
Messages

1,332
Hello PM!
I started prepping for the NABBA universe yesterday. I'll be aiming to qualify at the NABBA England show, I have to get top 3 to be invited to do the universe show.
Im a taller guy so I'll never look as big or thick as the shorter guys, but I will suffer and get into the best condition that I possibly can do. I'll be doing a few shows before the main two, and one more afterwards at the NABBA UK which will be my last show. Im using more gear than I ever have done in the past, im also dieting for 22 weeks in total. Meaning that I have a real job to do if I want to time it perfectly.
My coach for this prep is a guy called John Robson who trained B-boy and got him to win a pro show, he's a top coach in the UK and has lots of titles under his belt.
Oh and yes im fat and small at the moment. I got up to 265lbs in my offseason... never getting this fat again.
Starting Diet plan is as follows
M1: 10 egg whites, 3 yolks, vit C, lemon, ice water, greens powder, coffee, bcaa, glutamine
M2: 300g white fish or chicken, 400g white potato, green veg
M3: 300g white fish or chicken, 400g white potato, green veg
M4: 200g chicken or turkey, 400g white potato, green veg
M5: Protein shake
Intra: BCAA, glutamine, vit c
Pwo: Protein shake
M6: 200g chicken, green veg
Gear cycle
22weeks - 10 weeks
800mg Test
400 tren e
600 eq
10weeks - show
150 prop eod
150 tren a eod
150 mast p eod
50 var ed
50 winny ed
letro, T3, clen, adex, yohombine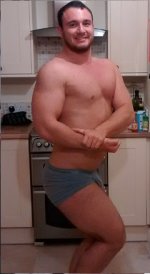 Last edited: