Joined

Feb 13, 2015
Messages

236
Mushroom/Asparagus Chicken Recipe
I absolutely love asparagus and mushrooms. This is especially true when I run a cut.
Mushrooms contain protein, vitamins, minerals, and antioxidants.
Selenium - improves cognitive responses and immune system function but can also play a role in fertility.
Choline – This is naturally produced by the liver, but it may also be important to supplement it to get greater benefits from it. Choline improves the body's metabolism and the burning of FAT.
And these are just a couple of the benefits of eating mushrooms. The antioxidant content may help prevent certain types of Cancer. The fiber in them may help manage several health conditions including Type 2 Diabetes. Potassium and Vitamin C are great for the Heart. This is just a POWER PACKED FUNGUS AMONG US!!!
Asparagus is also a very healthy vegetable, but technically it is a Dioecious Herb. It is actually native to Europe and Asia. So, some studies show that it may relieve the symptoms of a hangover, never thought about that one. It is rich in Folate, which is a broad term for the B-9 vitamin. Asparagus also has anti-inflammatory effects and is reported to help lower blood pressure. People with Celiac Disease would really benefit from eating asparagus because they are generally deficient in Folate and the anti-inflammatory response would be beneficial to them.
So! AWAY WE GO!!!
Prep Time: 10 mins
Cook Time: 8 mins
Total Time: 18 mins
Ingredients
1 lb chicken breast thinly sliced, or cubed
1 Tablespoon oil (I use coconut or olive oil)
2 cups fresh mushrooms sliced (I prefer the button or cup mushrooms)
1-2 bunches of fresh Asparagus
sesame seeds for garnish (Optional) I do not use it because it gets stuck in my teeth.
Chicken Marinade
1 Tablespoon soy sauce
1½ Tablespoon Shaoxing wine-I usually use a cooking sherry or white wine
2 teaspoon corn starch
½ teaspoon brown sugar
Sauce
3 Tablespoons chicken stock
1 Tablespoon soy sauce
1 Tablespoon oyster sauce
1½ teaspoon brown sugar
1 teaspoon cornstarch
1 teaspoon Chinese black vinegar can substitute rice vinegar
1 teaspoon sesame oil
2 cloves garlic minced
¾ teaspoon ginger grated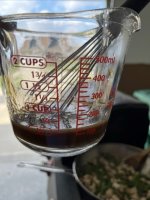 Instructions
In a medium size bowl, combine the ingredients for the marinade and add in the thinly sliced chicken breast. I recommend letting this marinate in the fridge for at least 30 minutes, but for the best results, let is sit in the fridge overnight. If you are up against time restraints the you can let this sit while you prep the other ingredients.
Combine all the ingredients for the sauce in a small bowl and set it aside.
Heat a wok or pan over high heat. Wait until the pan is hot and then add the oil and lay the chicken pieces flat in a single layer - leave out the marinade. In order to get a good sear, don't crowd the pan and leave the chicken pieces alone until you get a golden-brown sear, anywhere from 30 seconds to 1 minute. Flip over the chicken and repeat. Remove the chicken from the pan.
Add the mushrooms and asparagus to the pan and sauté for 2 - 3 minutes. Lower the heat to medium and add the chicken back in.
Next add in the sauce - use about half if you prefer less sauce(stir the sauce before adding it as the cornstarch will settle). Sauté everything together for 1 - 2 minutes until the sauce has thickened.
Top with sesame seeds.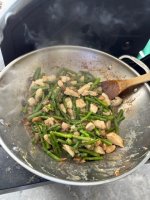 Serve
I use meal prep like this for my weekly work meals. I can knock out a number of meals in a short amount of time. Usaal spending 3-4 hours on Sundays with prepping them.