Joined

Dec 11, 2015
Messages

68
Alright everyone I did my first test cycle over the summer. Test E to be exact, my cycle looked like this.
Week 1: 250mg
Week 2: 375mg
Week 3-7: 500mg
Week 8: 250mg
Waited about 10 days for ester to clear before starting hcg, did 1000iu a day for 5 days. During this time I also began a very standard nolva and clomid pct for 4 weeks.
It's been 5 weeks since I stopped taking nolva and clomid and over 2 months since my last shot and this is my bloodwork of being off. I've heard of hormonal rebounds but should that still be happening at this point?
My natural test was 674.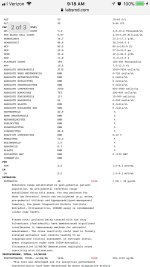 Sent from my iPhone using Tapatalk