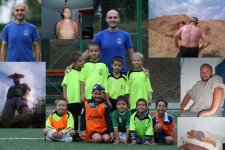 Big A said on a different board (ef) that there was a lot of interest in synthetine and syntheselen here in promuscle so i thought i'd share my story here to inspire all you guys. i've been a chubby guy for most of my life (as you can see from the pics!) and i was a yoyo dieter – as soon as I took a break from dieting the weight came back on.
I realised i wasn't being a good role model for the kids that i teach so i decided to try synthetine and synthelen as a combo. so I've been doing this for the last 18 months as well as a healthy diet routine. So far I've lost about 50kg!! Even when I took a break from the diet (but kept up with the synthetine and sytheselen) the weight didn't come back on as it usually did! How awesome is that!
I would almost say the product is a miracle but you do have to watch the
the eating and exercising a bit.
If I can do it so can all you folks out there – don't lose hope
Last edited: