Featured Member / Kilo Klub
Featured Member
Kilo Klub Member
Registered
Joined

Jan 23, 2014
Messages

2,639
Okay guys.
Here we go Again.
Weight as of now 200lbs
contest weight 191
Calories 2600-2800
Meals:
No specific meals
Macros:
Protein 270
Carbs 270
Fat 60
I'm following if it fits in your Macros; eat it.
Cardio 45 min a day:
Workout Split:
Monday: Legs
Squats
Leg press
2x ham
Tuesday: Chest/lateral shoulders/triceps
Wednesday: Back/Biceps
Thursday: Legs
Front squats
Hack squats
2x hams
Friday:Chest/front shoulders/triceps
Saturday: Back/Biceps
Ill be hitting each body part twice.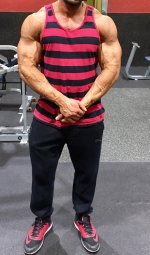 Today's little pump at the gym.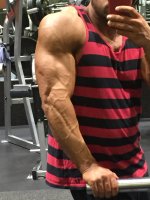 Blood drawn on Monday; will post my initial blood work when it results then 4 weeks from Monday; I'll draw another to check Test levels.
First Pin of Test Cyp was Monday as well.
Cycle:
Week 1-12 400-600 Test Cyp; will start at 400 then increase
Week 2-12 NPP 300-400 start low then increase
Week 5- 10 Tbol (I'll give my liver a break)
2-12 or until I run out- Proviron 25-50mg
I'm mentally prepared and challenging myself to rebound properly this time around with no Edema, stomach destination or packing all the fat back on.
Follow along.
More pics to follow
Welcome to Beast mode