Active member
Registered
Newbies
Joined

Feb 23, 2019
Messages

114
Hey guys, just wanted to share my bloodwork with you. I thought I would give the daily injection routine a try and see where it takes me - and fuck, I'm really impressed!
Much better hormon balance than with once or twice a week shots. Also since I started injecting daily I'm no longer taking any AI.
7 weeks ago I came off a longer blast cycle and thereby 5 weeks ago I started injecting 15mg Testosterone Enanthate every day with a slin pin / shallow i.m.
My hormon panel came back above range, so Im thinking of lowering the dose allthough Im feeling fucking great
hormone panel:

Total Test is 39,4 and slightly above range
Free Test is 38 and the reference range is up to 22.7 so its almost double free Test with just 105mg a week, crazy
Estradiol looks good with no AI
DHT also in range
SHBG also in the middle of the reference range, pretty good I think
Lipids: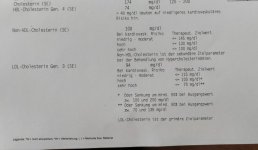 HDL is 74, im pretty sure it would be a lot higher, probably above 90 if I lower the test into the reference range (right now Im not doing much cardio, maybe once a week for 30 minutes)
LDL is 94, also pretty good
HCT and Hemoglobin:

both very low which is actually kinda cool. I will recheck in 2-3 months to make sure hemoglobin is not falling below reference range
Hope this might be interesting to some. So right now I'm thinking of lowering my daily dosis to maybe 12mg a day and then recheck
bloodwork in about 4-8 weeks.
What you guys think?