In Todays installment of Cooking with Chef Boy-R-Dizzy we are making a Lean Mexican Casserole
I usually double the amounts to cook for the work week.
Ingredients
1 lb Lean Turkey Meat
1 Jalapeno Pepper chopped
1 Onion Chopped
1 pkg Hot Taco Seasoning
16oz No Fat Refried Beans
1/2 Cup Salsa
Whole Wheat or Low Carb Tortillas
1 cup Frozen Corn
3/4 Cup Reduced Fat Shredded Cheddar Cheese
Cook the Turkey Meat, Onion, Jalapeno and Taco Seasoning in a large skillet until brown.
Add the Refried Bean, Salsa and Corn.
Stir Well and simmer for 5 minutes and remove from heat.
Place a Tortilla in an 8X10 dish that you've applied cooking spray to.
Add half the mixture to the dish.
Place another tortilla on top of and add the rest of the mixture
Cover with Shredded Cheese
Bake at 350 for 30 min
Top with additional salsa or sour cream and serve!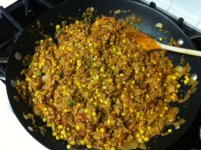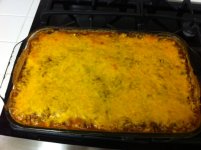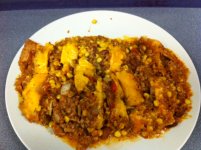 Enjoy!