Active member
Kilo Klub Member
Registered
Joined

Apr 1, 2005
Messages

1,902
Well as some of you know I live a very simple existance, with my 2 German Shepherds, in a small beach pad, 2 blocks from the ocean, in South Jacksonville Beach. I have my daily routines and in many ways I enjoy life more then ever nowadays. I am very comfortable here and I feel protected and safe.
There are a few people who have an open invite to visit me at "TBP" (a somewhat annoying accronym for "The Beach Pad") I figure these people's intention is not to interfere or intrude in my life but more to appreciate TBP for what it is. Those people have earned the invite to show up anytime, slip right into the lifestyle, and stay as long as it takes for them to get there head together. My house is there house if you will.
That being said one of the people that are on the list is my good friend Nancy Tremblay. Nancy just competed last weekend in the North America, taking 2nd in the C class. The week prior to that she was shooting a series of DVDs for Cathe Friedrich. Right after the North America she did some work for QVC. Her schedule is usually slammed and quite frankly she lives a very stressful, busy life. I saw her at the North America and when we parted ways last Sunday I said "stay in touch and if you need to get away just come on" Well early in the week she called and said "Tony do you have plans for the weekend, I am tired, stressed, everything can I come visit and get away for awhile?" offcourse I said yes and she said she would try to get over by Friday late morning early afternoon.
Friday morning she calls and says "I am super busy but I still need to get away I will be there by 1 but I can only stay a couple hours and then I got to go." I told her she is welcome to stay for 2 hours, 2 days, 2 weeks, 2 months, hell 2 years I really don't care as long as my balance is not affected. She warns me that she has put on about 15LBS of water since her show a few days ago, some of her spray tan is still on, she hasn't payed much attention to her hair, and hell she hasn't even shaved her legs and she doesn't care she just wants to get away for awhile. I warn her once again that I don't live in the lap of luxery, this will never be mistaken for Malibu, and I don't even have a dish washer or washer and dryer. She replies "perfect"
She arrives about 1, I walk outside to see if she needs help carrying anthing. She is like smiling and almost laughing, so offcourse I am like "what the hell is so funny" she is like "this is perfect just as you described it" I thought that was pretty cool. I know when I first moved in here Marilyn asked me "this is only for a short time right? "I mean you are not really going to live here that long right?" So maybe I was a little gun shy of what Nancy would of thought as I don't get many visitors. So Nancy comes inside puts her stuff up and get aquainted with my dogs. They seem to like her right off the bat and she likes them so we are off to a pretty good start. I walk her down to the beach to show her the beach and walk a little and unwind. I tell her I trained all of my clients for the day already but I have a pretty busy schedule. She is welcome to come along, stay here, whatever she wants to do. I also explain to her that there are rules and structure but down here that are not really in effect. Down here you do whatever you want. She said she would like to come along so I pointed to my Jeep and explained to her that this is how I roll, no air conditioned fancy set of wheels, just your basic 1985 Jeep CJ7. She was like "cool" so I fipped her the keys and said lets go.
Nancy is a French Canadian, originally from Quebec City, Quebec. I was a little worried about her skin tone..............ahh okay I was trying to be politically correct. I was damn scared that her white skin was going to burst into flames riding around in my Jeep or she was going to contract skin cancer sitting in my driveway......She did okay and by days end I actually felt a little bit sunburned on my face and she had some good color.​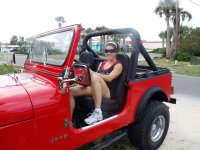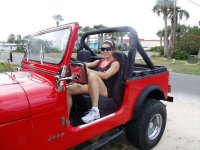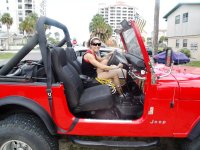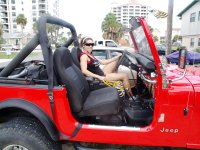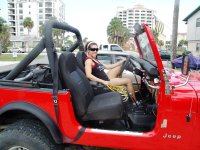 To be continued............