Active member
Registered
Newbies
Joined

Apr 9, 2021
Messages

207
The scientific literature on Primo suggests it is a relatively weak anabolic, that doesn't increase strength considerably, and not much else... but the bulk of it is not in English, and it's never been approved in predominately-English speaking countries for medical use... so it's somewhat of an incomplete picture for us. The bro-science, of which there is GOOD and bad, is in all different directions, and one expert disagrees with the next on the anecdotes from what I can see.
To
dispense
with forthright: MPMD linked to a (pilot) study where 1,200mg Primo was given to female cancer patients and without deep analysis used the dosage to make the unqualified determination that the dosage must be well-tolerated, particularly in men. Given that tolerability was not an end-point measured in that pilot study, it cannot be extrapolated that cancer patients in the early 1960s would not drop out as subjects if the end-result was potentially life-saving cancer treatment. So that particular study is unusable for the purpose of assessing tolerability. There's more wrong with it, but that's the major consideration for that particular paper.
What would be needed in order to assess Primo's efficacy objectively is real results from blood work (self report or original copy) showing:
- E2
- Primo dosage along with all other compounds/dosages that could potentially be active in the body
- LDL, HDL
Anyone who wants to contribute these data, PLEASE do, as there's no central location for such things anywhere.
DISCUSSION:
Now, on to what the consensus on the literature has been----
Peter Bond wrote a classical report on the metabolism of Primo in skeletal muscle and the mechanism behind its reduced anabolism, as well as the weaknesses of the Hershberger Assay: https://peterbond(dot)org/post/methenolone-primobolan-3a-reduction
Building upon that foundation, here is a graph from a 1965 study [1] which analyzed various AAS under strictly controlled conditions-- specifically Primo, Deca, Dbol, Anadur (nandrolone hexylphenylpropionate, a 21-day half life form of nandrolone), and Androxan (oral similar to androstanozole). It is a
very strong study design
that studied the human effects of the compared AAS under precisely manipulable conditions (»). That is, patients were tube-fed, immobilized, and the researchers could tease out the anabolic effects of the AAS studied with dietary manipulation (protein and caloric intake were manipulated) precision: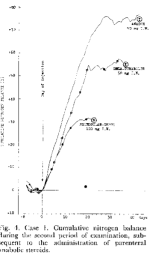 In one patient (Case 1) a 100mg bolus of Primo was administered resulting in an uncomplicated 16 day positive nitrogen balance with a total nitrogen retention of 30.8g [1] on a caloric surplus (55%>BMR) and protein intake of 1.65 g/kg b.w. See Figure 1(N) [above].
This basically matched the nitrogen retention of a woman on an equivalent caloric and protein diet (45%>BMR), 1.5 g/kg b.w (30.6 g, 18 day positive nitrogen balance) [1].
The following Table shows that Primo at 100mg increased lean tissue by about 1/2 the amount as 50mg (!) of Deca: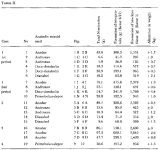 Some studies suggest (now this is very dependent upon factors besides the compound) that Primo
may
not be the best AAS for muscular strength or speed, if important to the user.
Czela et al. studied Primo's effects on cardiac remodeling [2]. In this study, the findings demonstrated that Primo profoundly accelerates the transition from fast (Type II) to slow (Type I) isoform myofiber types in the case of stimulation for cardiomyoplasty. This may be
partly
compound-specific, but is certainly also muscle-, species-, and stimulation- specific (latissmus dorsi - a fast twitch-predominant muscle typically, sheep). It is, however, certainly evidence against Primo being an appropriate choice for strength in general; however, not a definitive finding.
»: Dr. Bond did point out that by the timing of feeding and treatment initiation, when a patient is not at a baseline of and preceded by the fasted state, it is not a precise 1:1 comparison versus a patient that has been fed. This is, however, quite a strong study on its face for these purposes.
CONCLUSION:
Strengths/Weaknesses of Primo (This informal assessment is absolutely subject to change based on opinions and contributions so long as supported by evidence)
++
anecdotes of only mild negative impacts on LDL, HDL or even perfect blood work
+
anecdotes of particular aesthetic/mental benefits (roundness, dry, psychological QoL metrics) the former being impossible to measure, no, before/after pics are not evidence!
+/-
anecdotes of serum E2 reduction and resultant sides (e.g., libido)
versus:
?
anecdotes of hair loss/prostate sides WHICH the science (as it is a 5α reduced AAS) says CANNOT be as bad as testosterone in this regard
--
evidence (published) of comparatively low anabolic effects in human skeletal muscle (arguably only 25% as anabolic in skeletal muscle as deca!)
-
evidence (published) of preferential slow rather than fast-muscle fiber transformation
--
high, viscous oil volume
--
financial cost/expense
I REALLY want to give Primo a real fair shake, but I feel like only bloodwork can lend much support to the anecdotes. This is just my initial/current impression.
____________
References:
[1] Saarne, A., Bjerstaf, L., & Ekman, B. (1965). Studies on the Nitrogen Balance in the Human during Long-term Treatment with Different Anabolic Agents under Strictly Standardized Conditions. Acta Medica Scandinavica, 177(2), 199–211. doi:10.1111/j.0954-6820.1965.tb01822.x
[2] Czesla, M., Mehlhorn, G., Fritzsche, D., & Asmussen, G. (1997). Cardiomyoplasty — Improvement of Muscle Fibre Type Transformation by an Anabolic Steroid (Metenolone). Journal of Molecular and Cellular Cardiology, 29(11), 2989–2996. doi:10.1006/jmcc.1997.0543