In Todays installment of Cooking with Chef Boy-R-Dizzy we are making Lean Stuffed Pasta Shells.
I usually double the amounts to cook for the work week.
Ingredients
20 uncooked jumbo pasta shells
1lb extra lean turkey meat
1 medium onion, chopped
1 medium green pepper chopped
1 ¼ cups reduced fat ricotta cheese
1 ½ cups reduced fat Italian cheese blend
¼ cup grated Parmesan cheese
¼ cup prepared Pesto
1 egg
1 can Italian diced tomatoes
1 can no salt added tomato sauce
1 tsp. Italian seasoning
•Cook pasta according to package directions to al dente; drain and rinse in cold water. In a large skillet, cook the turkey, onion and green pepper over medium heat until meat is no longer pink; drain. In a large bowl combine the ricotta cheese, 1 cup Italian cheese blend, Parmesan cheese, Pesto, egg and half the Turkey meat mixture.
•In a small bowl, combine tomatoes, tomato sauce and Italian seasoning. Spread ¾ cup into a 9x13in baking dish coated with cooking spray. Spoon cheese/Turkey mixture into pasta shells; place in baking dish. Combine remaining Turkey mixture and tomato mixture; spoon over shells; Sprinkle with remaining cheese.
• Cover with foil and bake at 350 for 40 min, uncover and bake for additional 5-10 minutes until cheese is melted.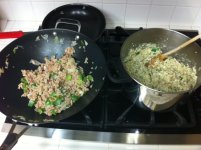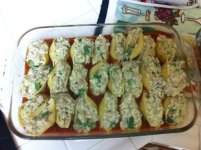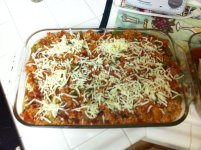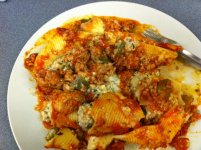 nutritional facts:
2 stuffed shells =
295 Calories
22g Protein
23g Carbs
8g fat
Enjoy!