Joined

Nov 27, 2021
Messages

96
Since many people now have their heads down, most people have some problems with their backs. If this happens, our backs will become very tense. To change this kind of back problem, in addition to changing bad habits, back training is also needed. So do you know what are the exercises for doing back muscles at home? Let's go take a look!
Action 1: Prone and stand up (15-20 times)
Lie prone on the mat, stretch your legs back together, close your abdomen and thighs to the ground, raise your arms above the top of your head, keep your thighs and abdomen on the ground, keep your legs and upper back straight, and your arms will follow up. Move, stop the apex for a while, contract the back muscles, and then slowly restore.
Action 2: Prone rowing (15-20 times)
Lean over on the mat, lower body and abdomen against the ground, hold both ends of the towel with both hands and lift up over the top of the head, keep the hips and thighs against the ground, straight up the upper body, and at the same time bend the elbows and slide the arms towards the chest. Pause for a while, contract the back muscles, and then slowly return to the opposite direction.
Action 3: Bend over and draw circles with arms (15-20 times)
When exercising, coordinate your arms to draw a circle from the body to the body, and feel the contraction of the lower back and both sides of the muscles. It is recommended to do 4-5 groups, each group completes 20-25 trainings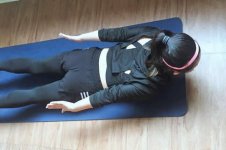 Action 4: Breaststroke stroke (15-20 times)
Lie on your stomach on the mat, touch your abdomen and hips, raise your chest and legs, and straighten your arms forward. Keep your back straight, and slide your arms back to the sides of your thighs as your upper body straightens up. Stop for a while at the apex and draw your arms forward to the initial position, paying attention to keeping your legs in the air during the movement.
Action 5: Reverse rowing (15-20 times)
Find an object with a certain height that can be grasped with both hands, such as a table, lie on your back, put your body under the object, bend your legs on the knees, step on the ground with your feet, grasp the edge of the object with your hands up, hang your body, keep your back straight, and tighten your core to keep your body Stable, the back force drives the arms to bend the elbows and pulls up the body until the apex of the action is stopped briefly, and the back muscles are contracted, and then the speed is controlled to slowly return to the opposite direction.
Anyway, what methods do you use to exercise your back at home?