Joined

Jul 29, 2014
Messages

302
Will be starting up a training log here on PM.
I've been active on forums for around 10 years and have always enjoyed keeping a log for feedback and suggestions from members. Seeing as how PM has probably the most knowledgeable member base I have seen, I think it's a perfect opportunity to learn more since you can never learn enough.
I've been training around 12 years but only seriously for the last 4-5. I've competed twice, once at light heavy in 2014 and last October in classic physique.
I didn't turn to injectable AAS until after my show in 2014 when I used pro hormones going in. I realized, despite my poor genetics, I wouldn't be able to compete without AAS most likely anyways so I started up. I had been researching for a couple years before that but never took the dive.
Anyways, right now I'm between blasts and letting my body recover a bit. My "cruise" right now is 400mg test iso, 150mg deca, 25mg Proviron, 25mg ostarine and 5iu gh pre workout. I also take 150mcg of Synthroid for thyroid replacement. This will go another 4 weeks and I'll crank things up slowly over time.
I'm also using insulin for the first time during this cruise. First time ever was last week and used 5iu of Novolog pre workout following Mutant's Protocol. I plan to only go 3 weeks my first round to dial in my carbs and timing best I can for when I crank back up.
Training wise I've been following Fortitude Training and absolutely love it. Before this I did DC training and Mountain Dog, both of which I really enjoyed as well but, FT has really stimulated some new growth very quickly.
Diet is very plain and simple. 350p 150c 100f on non training days and 350p 350c 80f on training days. Calorie increases come pre and post workout from carbs on training days. I'm very disposed to gain fat easily so pushing calories up high usually doesn't work for me and I get fat fast.
These are my most current pics from the last couple weeks. Plan is to keep growing slowly and look for that 255+mark at my current conditioning. Current weight is 240ish.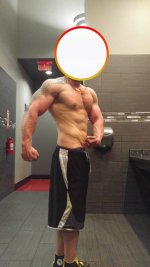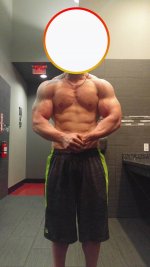 Last edited: