Well-known member
Registered
Joined

Jul 25, 2014
Messages

1,629
What "style" of training do you prefer. How much weight, volume and sets do your perform. Which movements work best for you and why? Does it target or exhaust the specific muscle best or are your preferred movements just what's most comfortable perhaps post injury etc?
There's been some good posts on a thread qbkilla created and I was hoping we could expand further in regards to training the delts.
First to be clear I do not follow any one specific form of training. I try different things and I implement and adjust to what suites me best. This is what I've found works best to add size and dimension to my delts:
*Posterior Delts:
High rep range for rear delts: 22 to 30 or more reps for bent over dumbbell Flys. I bend over and place my chest on an incline bench so that I can't sway at all as I perform the strictest form possible.
I start my routine this way for 3 working sets.
(I get that this might seem nonsensical but this is what's worked for me)
*Medial Delts: lateral raises with medium average rep range of 16 reps.
[I prefer and prioritize Y raises over side laterals]
Side Delts: 2 variations - 4 sets each exercise.
First exercise I will aim for 18 to 20 reps each set
Second exercise I will aim for 15-16 reps
Smith Machine Overhead Presses alternated with upright rows on occasion for less chance of shoulder pain - impingement etc. These are the only "heavy" movements I perform. 3 sets aiming for 12 reps on the first set. (1st set maybe 12 reps then 10 and 8 reps for the final set)
O.H Presses never did much for my delts, certainly not giving them that capped look so these aren't really necessary but I do enjoy performing them. I do not consider O.H presses to be all over delt movement. For me these target medial delts and do a subpar job of incorporating the anterior deltiod muscle. The late great John Meadows speaks to this in some of his videos.
*Anterior Delts:
I will perform 1 excercise for front delt.
Front raises 3 - 4 sets 15 reps each
Then back to
rear delts
for final 2 exercises.
Cable one armed rear fly: these are performed quite slowly with strict form to ensure the anterior delt is doing the work.
3-4 sets 15 reps each
Rear Flys from the Pec-Deck pushing everything left in the tank.
2 - 3 sets shooting for 30 reps each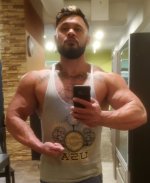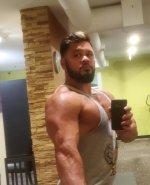 Far from the biggest guy on this forum but the routine I outlined finally allowed me to develop better dimension to my delts for which really got little to nothing from Dorian Yates like H.I.T nor D.C style training.
When it comes to training delts if there's one person that I've gotten the most from, that person would be Eugene Teo.