Active member
Kilo Klub Member
Registered
Joined

Apr 1, 2005
Messages

1,902
A few months ago I mentioned in a previous post
that I was working on a story with Frank Zane
for his Building the Body Magazine.
Well Hot off of the presses here it is.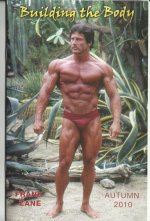 The cover of the Mag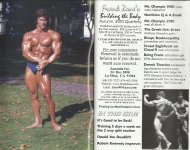 I love this magazine by the way.
It has all the structure and setup of the old school mags.
I Like many on here read those mags from cover to
cover and dreamed of having muscles and being
like guys such as Zane. For me it is really cool
to be listed in the table of contents of Frank's mag.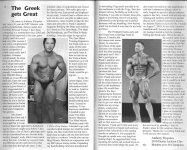 My story. Frank chose the title as well as
the photos. For those wondering who the
friend is I mentioned in the story.......
non other then PM's own Jason Iabadman.....