Joined

Dec 19, 2012
Messages

294
Been so fucking pissed off lately. Just want to make sure i did the right thing.
Ok where to begin, Little lengthy but i need to get this off my chest.
So i started talking to this girl in Febuary - April. (3 months) And then I told her that i really liked her, she said that she felt the same way to but didnt say nothing to me because i live 2 hours away. I ended up PCTING funny enough during the time that i said i really liked her, but i didnt tell her this so i went 2 weeks without seeing her. Then canceled and told her i was sick (because my dick wasnt working) and then she said that she is done with me pretty much because of the distance, but also said that she also doesnt want a boyfriend right now. But also texted me by mistake and said "broke things off with Jelet
: i called her out (because clearly that text was not ment for me) it was ment for one of her friends i said why are you being boastful about his, blah blah blah. then went no contact..
So i go no contact completely. she messaged me "hi" in july. I ignored... She messaged me in august again and said she was sorry and that she was not in a spot to be with anyone at the time. and that im a great guy.. and if i ever want to do something with her to let me know...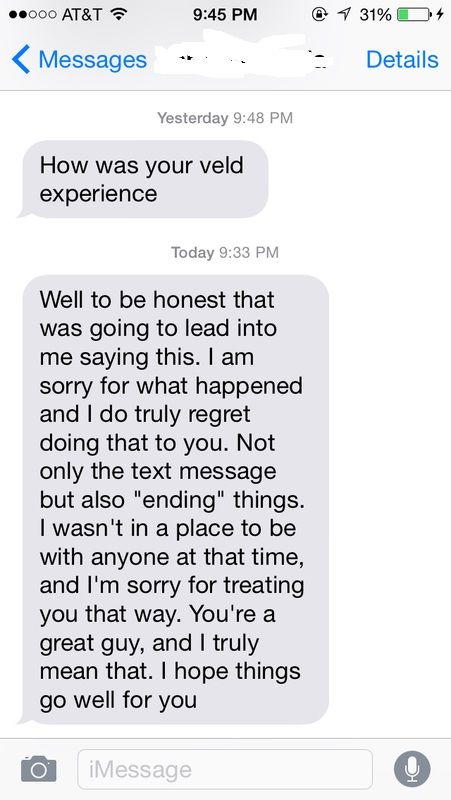 so i make plans and invite myself to go over for the weekend, she buys me drinks.... she texts me after i leave that it was great seeing me with a kiss emoji....
i tell her that i have to go home(4 hours away) for my grandmas birthday. then she texts me a few days later that its a shame that i cant come this weekend, that she is all alone with her housemates and bored...
so I MAKE plans with her and ask her when is she free... and what days she wants me to visit her... she says "i dont know, it would be great to spend time with you" so i say is thursday and friday ok? she says yes... later on monday she texts me saying if we can reschedule because she has a job interview on friday(this is true because she snap chatted me a email )
Ok... so im waiting for her to text me about the reschedule.... but she never does... i see on her snapchat stories she goes out with her friends the following weekend... and again the next weekend! so after that i get so pissed off and stop snapchatting her and talking to her
she then texts me is everything is ok, and heres how it went down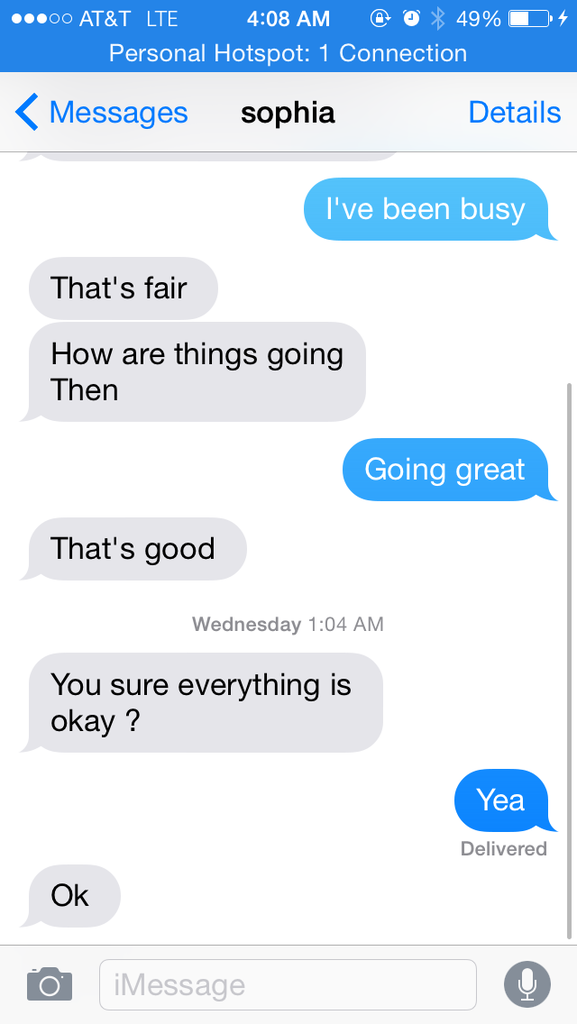 few days later i shake it off and start talking to her again and acting normal... but then a few days later i find out on her snapchat story that she was at a concert that she knows i love the music of!!! yet i didnt get a fucking invite. was so pissed!! that i blocked her off all social media....
been 3 weeks and she didnt even text me why i blocked her. i guess she is just a shady slut? i did the right thing correct? unless she didnt invite me to the concert because she thought i was sketchy to not snapchat her and give her short answers for a few days? we had a streak going on snapchat and also were best friends,(both of us had same #1 snapchat best friend soit gave us hearts lol) but i broke the streak and purposely made her not my snapchat best friend becausei was pissed that she is not making plans with me after telling me if we can reschedule due to job interview.
man i am so fucking pissed off about this situation. i fucked 4 diff girls in the past month and im still not over her. really sick of feeling like a vagina. i think i did the right thing, if she was interested she would have invited me .unless she was pissed that i suddenly ignored her and gave her short answers.
what do you guys think? did i fuck up? or did she fuck up and good ridance. esp if she didnt txtm e why i blocked her ass 3 weeks ago.