IFBB PRO/NPC JUDGE/Administrator
Staff member
Administrator
IFBB PROS
JUDGES
Registered
Newbies
Joined

Jun 4, 2002
Messages

13,866
First of all, I want to make it clear that I do not blame bodybuilding at all for any of the issues that I have. They are all purely my fault as I made various mistakes. I will never regret doing bodybuilding, because that is what created me.
I have retired from competition in 2001, 20 years ago. Since then, I never trained or dieted what I call correctly for any proper period of time. I basically fucked around with the training and diet as my genetics allowed it. I would easily hold 260 with abs. But since my bodybuilding "career" was behind, I never saw the point of doing things balls to the wall again.
About 18 months ago, both my daughters had dad/daughter dance at school. The theme was "Superheroes". So all the dads were going to wear costumes with plastic muscles and so on. But you guessed the mind set - "I'm going to do it for real!"
So for the first time since I retired, I trained, dieted and geared up properly. At the end of 8 weeks, the dance arrived and I was ready! I bought official DC authorised costume bits and I looked shit hot. See the Superman photos below. I had to wear jeans as in the Superman tights, the detail of my package was too obvious and I did not find it appropriate for a girls' only school, school dance.
The photos were taken an hour before the dance, just as my daughters decided that they were not going because a Superhero theme is "lame". WTF?????????? This was mu moment to shine!!!!! I couldn't believe it!
I just ended up sulking the rest of the evening at home, which was made even worse the day after when I found out that the best costume of the night was won by a dad wearing a fake plastic Batman outfit.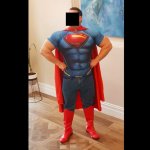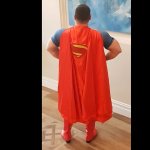 Last edited: